Packing Services
Although our name states Sydney, the Royal Sydney Removals company provides packing services across Sydney, Melbourne, Brisbane, and Canberra.
What is a packing service?
Packing services is exactly what it sounds like: the provision of the service of packing. While it may intuitively seem like a service automatically included as part of a furniture removalists contract, not all furniture removalists include packing services!
Royal Sydney Removals provides you with full packing services. At Royal Sydney Removals, we provide you with an end to end experience. We will assist you from the very beginning of your moving process to make this as stress-free as possible for you.
Benefits of packing services
Moving is stressful. We know this. There is a never ending list of to-dos, and things to say, people to see, decisions to make. Packing is one of the most stressful, arduous, time-consuming activities when it comes to moving, and this is where Royal Sydney Removals steps in for you. Let us take the stress away, and give you your time back to focus on other important things while we pack your belongings for you.
We are fully insured packers, who maintain strict quality adherence standards and privacy policies.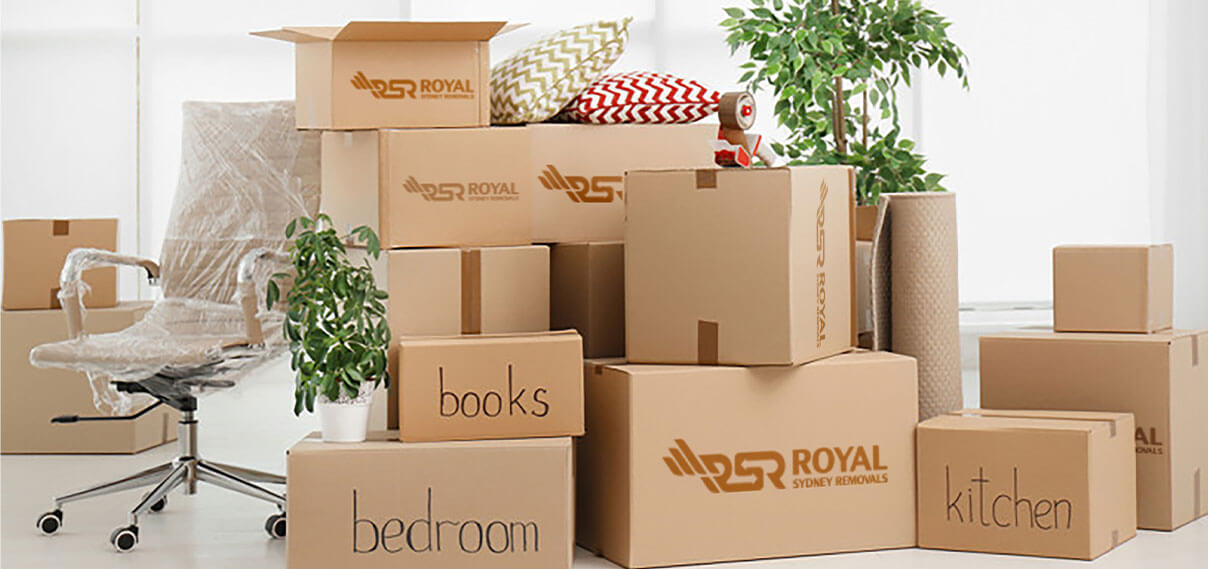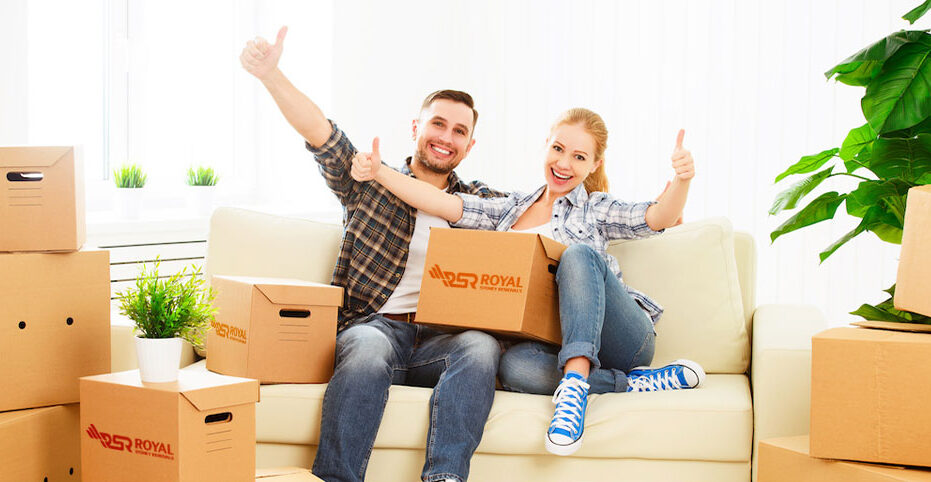 I don't know if I need packing services...
This is not an uncommon thought in many of our clients' minds… before they begin the packing process. Packing up your belongings and your home or office is a very stressful, chaotic task and being emotionally involved in the task makes it even more so. Having professional, reliable, friendly furniture removalists to do your packing for you will not only save you time but will ensure your belongings are all safely and securely packed away and ready to be unloaded once you are settled into your new home.
Do movers pack boxes for you?
The Royal Sydney Removals team will pack your boxes for you. The Royal Sydney Removals team will pack up your home furniture or your office items with great care and provide high-quality packing services. We will provide a quality guarantee that Our movers and packers will pack your items with great care and attention. We understand your items are of high value, and we will treat your items with absolute care.
Royal Sydney Removals operates with all the required and relevant insurances, quality guarantees and privacy policies. You can rest assured that we maintain your privacy with utmost confidence. We are professionals in this business, and our clients' items' safety, our client's privacy, and satisfaction is our number one concern.
Not only that- we can help you unpack too! Let us help you unpack your items once we have safely, efficiently moved you into your new location.
How much does it cost to pack up a house?
This really depends on the size of the house and how many items you wish to pack. The same applies to an office. Royal Sydney Removals will provide you with a quote once we understand how many items you have to move and of what nature the items are.
How much does professional packing cost with Royal Sydney Removals?
Royal Sydney Removals charges a flat rate per hour for our professional packing services; this is part of our quality guarantee and service promise to you. To ensure we are providing you with the best price, and if you would like us to, we can visit your home beforehand to provide you with the most accurate quote for our services.
With Royal Sydney Removals, you are guaranteed the best value service for your money. We work quickly, efficiently, and with a friendly smile at all times!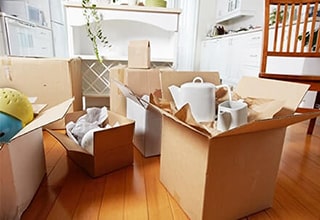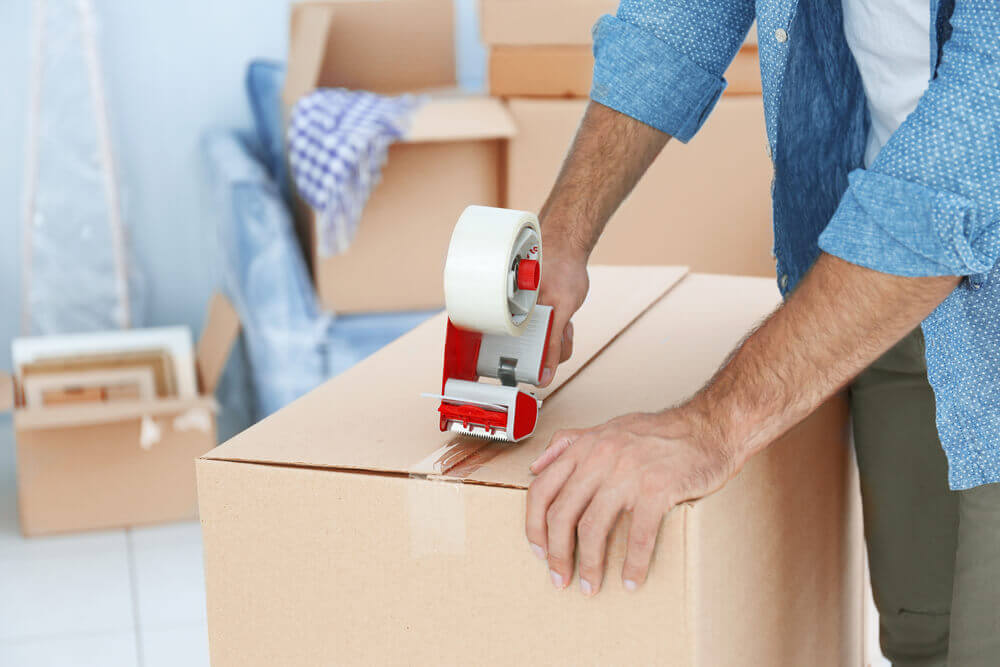 How much time does professional packing take?
This depends on how big your home or office is and how many items you have. For a two-bedroom apartment, packing could take half a day; it could take closer to two days for a six-bedroom house. We will discuss your timelines with you, and we can use more or fewer men (to speed up the process) following how quickly you need to move.
Can you move my house-pet?
Yes, Royal Sydney Removals can assist you in moving your beloved house-pet. We are all animal lovers ourselves, and we understand how important your beloved furry friends are. We take the utmost care of your pets and will deliver them safely and quickly.
Selecting the right furniture removalist company that provides a full packing service can provide you with improved peace of mind, reduced stress and a better overall moving experience. At Royal Sydney Removals, this is our goal: a stress-free, high quality, fast, efficient moving experience for you and your loved ones.
We do not move horses or farm animals.
Let us be the high-quality furniture removalists you didn't dare to dream of. Quality guaranteed. Competitive pricing guaranteed. Fully insured.
Contact us!
If you are about to move homes or offices and look for reliable, friendly, hard-working, and fast removalists, give us a call for an obligation-free consultation and quote.
High quality, fast, reliable, and trustworthy- that's the Royal Sydney Removalist service promise!
Our Services
Our moving company's reputation reflects the excellent service we provide to our existing, current and new customers.
Our service stands out while providing cost-efficient rates, including various discounts. And the best thing yet?
Why do so many choose us?
Royal Sydney Removals is always dedicated to delivering an excellent customer service experience. To ensure that our customers always get top-quality service and complete satisfaction, our movers in Sydney are always inspired to go the extra mile to get the job done. We can handle any kind of moves including heavy items like pianos movers and pool table removals 

Competative Rates
We offer competitive furniture removals rates on all our services. Whether you are moving locally or moving interstate across Australia, we have the best services for you at affordable rates.

Free Boxes
If you are moving locally, you can get unlimited free boxes. We would require a fully refundable deposit per box.

Fast Interstate Removalists
Our interstate moving service offers fast delivery for your furniture to your new place across Australia

Friendly Staff
Our staff recognize the high level of stress that can occur during the moving process and are trained to be able to give as much help as possible, starting from the moment our customer's contact us.

Experts & Trustworthy
We have the knowledge and expertise to provide an accurate quotation, helpful moving tips and advice on any situation that might arise during the moving process. If our customers have special needs or requirements, we work closely and quickly with the customer to find the best solution.

Insured Removals
Our team of professional removalists always take the utmost care of your belongings while moving them. However, in the unlikely event of any harm caused to your items and to give you full peace of mind, we are fully insured!
Royal Sydney Removals Services
What customers are saying
They pack and remove with caution.
I seriously would not waste any time looking for a company other than royal Sydney removals. They are the best at what they do. They are helpful, patient and no matter what the request, they'll go out of their way to do it. They pack and remove with caution and organise all removals.

Every experience has been great.
I've used royal Sydney Removals for 2 moves now, and every experience has been great; each time, the removalists have been helpful and friendly. I'll give you guy 10 out of 10. I strongly recommend this company.

These guy are amazing they professional.
These guys are amazing. They were professional, easy to deal with, moved my house with no dramas at all. Thank you. Royal Sydney removals team .highly recommended!!!